Today, we're pleased to announce the addition of the open-source Pantavisor Controller to the Device Update for IoT Hub ecosystem, providing teams with the ability to update containerized embedded Linux systems and applications built with Pantavisor Linux.
Device Update for IoT Hub provides the scalability and reliability of Windows update technology optimized for IoT devices. Combining Device Update with lightweight containers on embedded Linux devices, release teams can easily maintain and secure IoT device fleets regardless of their architecture.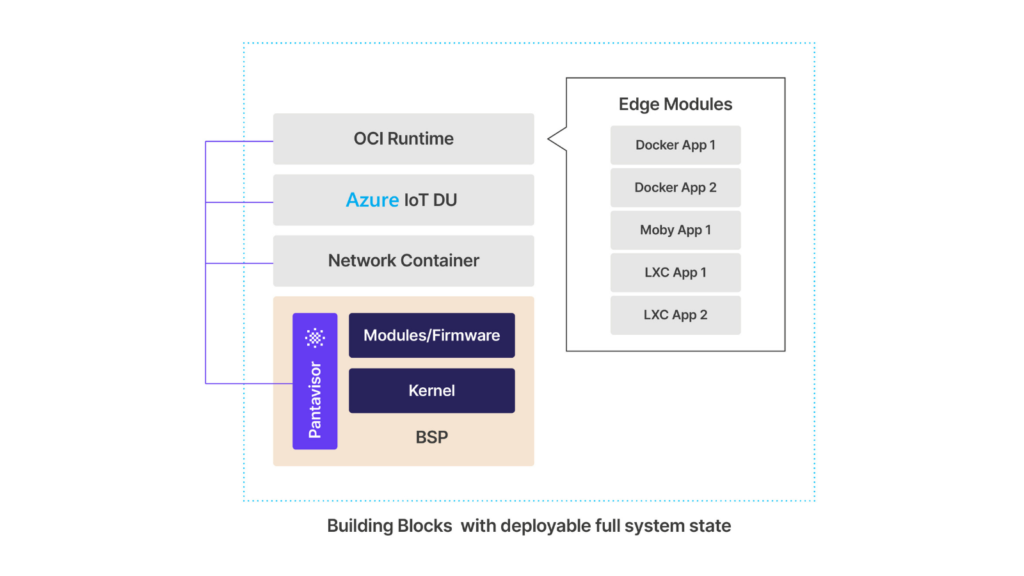 IoT Fleet software lifecycle management from a unified dashboard
Device Update for IoT Hub provides an end-to-end update solution that securely enables release teams to manage and deploy over-the-air updates to IoT devices. Customers can respond rapidly to security threats and deploy new features to meet business requirements without the added cost of building and maintaining their over-the-air update solution.
Pantavisor Linux implements lightweight containers to build modular containerized embedded Linux systems that are fully customizable and easily managed using standard open source technologies. The portability of Linux containers empowers teams to manage the lifecycle of containerized embedded Linux firmware and applications across embedded Linux device fleets.
Pantavisor containerizes the Device Update (DU) agent, enabling developers and operators to manage and update every component of the system stack with containers, including the DU agent itself. As a result, teams can now secure, update and maintain the software life cycles on containerized IoT device architectures and others from a single unified dashboard. 
"Combining the Device Update for IoT with Microsoft Windows market-leading Update technology and Pantavisor Linux creates an all-in-one solution for Azure customers who want to modernize their embedded Linux IoT device fleets at the smart edge and bring management and security to the next level of operational excellence," says Ricardo Mendoza, CEO Pantacor. 
"The Device IoT Update Hub supports a range of devices from the smallest sensors to your gateway class edge devices, including directly connected devices and those that are in complex topologies where they're disconnected or nested on multiple levels. Now, thanks to the addition of the Pantavisor update handler for DU, our users benefit from end-to-end OTA deployments that bring LXC Linux container support to achieve modular and streamlined updates for both application containers and system firmware alike," says Jeff Davis, Principal Group Program Manager Microsoft. 
Try it and learn more 
Pantavisor Device Update for IoT Hub – Pantavisor and Azure DU hands on tutorial
Pantavisor Device Update Agent – technical documentation
Device Update for IoT Hub – Azure technical documentation
Questions or Comments? 
Ask a question on our Community forum or submit an issue to the Pantavisor GitHub repo. We'd be very happy to hear from you.